get educated.
You saw the icons next to our ingredients list didn't you? Well, let us tell you all about them. Click on the icons to understand what role each of these ingredients play in helping your skin!
thickeners & stabilisers
enhance the consistency, volume and viscosity of cosmetic products, providing more stability and better performance
stabilisers maintain the function and activity of other ingredients present (e.g pH level)
humectants
a substance that bonds with water molecules to increase the water content in the skin
humectants increase your skin's hydration by drawing water in
ph-balance
ingredients used to achieve a desired pH level
ph-balance is an important element in supporting the overall efficacy of the product
solvents
a group of liquid ingredients, including water that are used to dissolve or break down other ingredients to form a solution (or desired consistency)
solvents are rarely active on the skin
occlusives
a type of moisturising agent that work by forming a protective coating on the surface of your skin
occlusives prevent evaporation (or drying out ) and retain the moisture in your skin
preservatives
prevent bacterial growth and act as antimicrobial agents
preservatives basically this stop unwanted bacteria growth, both in the product and on your skin
emulsifiers
allow the product to blend together effectively (keep ingredients well mixed)
emulsifiers make sure our ingredients mix together even better than a meatpie and tomato sauce
emollient
do you like raisins?
how do you feel about dates?
emollients soften and smoothe your skin... to leave you feeling even smoother than that pick up line
Customer Reviews
Write a Review
Ask a Question
13/07/2021
Natalie C.

Australia
I recommend this product
Amazing Skin care
I have been struggling with hormonal acne for a while now and have tried a number of different products and this is the only product that has cleared my skin. It took at least 2 months for my skin to respond. I highly recommend this product!!!
28/06/2021
Brooke

Australia
Didn't work on my hormonal acne
I really wanted this product to work on my jawline hormonal adult acne. I stuck with it for 3 months before reluctantly going back to benzoyl peroxide. Benzoyl causes redness for me so I wanted to try something else - but the increased acned with the hack cream wasn't worth it. Perhaps it's better for non-hormonal acne
Hi Brooke, We are so sorry to hear that the acne hack cream didn't work for you! Always happy to chat through any questions that you have around why the product might not be working for you via email (hello@tbhskincare.com) or DM on instagram. Sending love, Rachael
27/06/2021
Eva P.

Australia
Acne hack cream
I bought this product when I got off the pill because I have heard it has helped lots of people with hormonal acne, I have been using it for about 2 weeks now and it works really well in stopping large pimples from developing (I have had none pop and if I feel any developing the cream helps stop them from growing and they are gone within a few days) but it has not fixed my problem area (small bumps on my cheeks, chin forehead area) - maybe I just need to keep using it for a bit longer.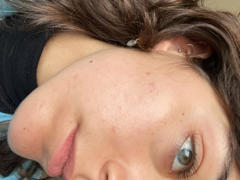 09/06/2021
Maria M.

Australia
tbh
absolutely love it, it delivers exactly what it promises, and will highly recommend it to others.
05/06/2021
Cait

Australia
Didn't help at all
Used the bundle but no improvement. Switched to tretinoin which has helped
Hi Cait, I am so sorry to hear that you didn't see any success with the acne hack cream. If you used the acne hack cream within the OG or boujee bundle you will be entitled to a money back guarantee if you didn't see results. We would love to chat more to you about your experience with the tbh products. Please reach out to us at hello@tbhskincare.com if you are happy to tell us more about your experience! Thanks, Rachael
I want to know more about this product