Customer Reviews
Write a Review
Ask a Question
16/02/2021
Hayley P.

Australia
I recommend this product
The best acne product I have ever used!
Amazing! This is about my 4th re-order (I've actually lost count may be more) I am blown away by the results.
02/02/2021
Leanne W.

Australia
Yasssss TBH!
AMAZING!!!! I was super sceptical, but it's day 10(?) now and I am officially blown away! I have had super sensitive acne-prone skin which has ever-so-unfortunately carried on with me into my mid-20's. Finding a product that treated the acne, but without making my skin go hay-wire has been the BIGGEST struggle... Until now. 10/10 would recommend.
27/01/2021
Yarrah T.

Australia
Amazing Product!!!
Hi Rachael, after having my baby one year ago I had the worst ever breakout on my face . It started when I was 7wks pregnant and just never went away . My confidence level to go out in public went down to zero that I had to cover up my face with makeup throughout my entire pregnancy which made the acne painful . After having bub it didn't stop . I tried a lot of natural and chemical products that people recommended but nothing seemed to work . I've been using Tbh since 12-12-20 and let me tell you it's just magic !!! I still have a little scaring on my cheeks and a pimple will pop up every now and then but that's about it . My face has gotten lighter and I have so much confidence to walk out with just lip gloss on . Thank you so much for this awesome product
24/01/2021
Amy S.

Australia
No more big pimples
Was a little skeptical at first as i have tried so many different products to clear my skin but this works amazingly well. I have been using the acne hack cleanser and cream for about two weeks now and all my large pimples are gone, still have a couple of smaller ones come up but they went away quickly and didnt hang around for weeks like they usually do. Cant wait to see more results the more i use.
17/01/2021
Silvana R.

Australia
Great Products!!!!
Love using these products, my skin feels soooo clean and I find that I am having less hormonal breakouts. Love it
30/12/2020
Lauren

Australia
Love love love
I have been fighting with adult acne since I was 20, I'm now 33. Painful acne on my jawline and cheeks from age 25 and I couldn't find anything to tame my skin let alone clear it. I started TBH in August, and in 5 months I now have zero pain, redness clearing and breakouts are maybe 2 or 3 tiny spots. A miracle from what they use to be. I've tried years of expensive products, medications and everything else along the way. I highly recommend giving TBH a try, its the best decision I've made
29/12/2020
Kirstin D.

Australia
AMAZING
Both are great products, probably the best products for acne that I've ever tried!
20/12/2020
Melis

Australia
Purchased again!
I loved the bundle, after using it for one month I can already see visible results. Bought a second one to ensure I always have a supply with me
18/12/2020
Lauren

Australia
Didnt work for me
Have been using religiously since I purchase mid October and have not seen any improvement in my skin. Very bummed as all the reviews had been so positive. Still on the hunt for something to fix my adult acne :(
Hi Lauren, I am so sorry to hear that. If you have been using the bundle for over 60 days you may be eligible for our 60 day guarantee. We'd love to hear more about your experience with tbh. Please reach us at hello@tbhskincare.com Thank you, Rachael
15/12/2020
Pranadewi A.

Australia
Works ok even if unconventional
The cleanser doesn't strip my skin. However I notice with the acne cream that a lot of my blind pimples come to a head faster especially on my jawline. It's not a miracle worker but I get more results with an AHA/BHA cream
14/12/2020
Kate L.

Australia
Loved it so much I bought it again!
This is my second purchase of the bundle I've loved it so much. I never had hugely problematic skin up until earlier this year. My hormones went berserk (I'm 32) and I ended up with painful, red and lumpy chin and jawline acne. Within weeks of incorporating these products into my skincare regime my skin did a complete reversal. I still have the odd pimple, but my goodness nothing like before. I get loads of comments on my skin now and I tell them it's all because of TBH. I just wish I did before and after photos!
09/12/2020
Larissa F.

Australia
Giving it some time
I agree that the products smell unpleasant and the acne hack cream seems to burn and dry out my skin. Possibly is just not suited to me specifically but am giving it a longer try as it's only been about 2 weeks and others seem to have great results . Also only using the hack cream as a spot treatment rather than all over due to burny-ness, but at the moment can't recommend this product
Hi Larissa, Thanks so much for your feedback! The acne hack cream should not dry out your skin. What you can smell in the cream is the isopropyl alcohol, which a few of our customers have shared concerns about. All of these concerns have been addressed by our chemists and can be found under our blog section of the website! I hope this helps and if you ever want to cha about your skin's individual reaction to the product, we are always more than happy to chat. Thanks, Rachael
08/12/2020
madison g.

Australia
Anti-bacterial cleanser
I am really loving the texture of this new cleanser! I try to double cleanse especially focusing on my areas of concern, and it leaves my skin feeling soooo nice and soft!
01/12/2020
Silvana R.

Australia
Great products
I find that the products help with my hormonal breakouts, really happy using the products:)
21/11/2020
Jade M.

Australia
Love it!
For most of my life I haven't had too much of an issue with pimples, however I had started to get regular, angry pimples that took ages to go away. I have been using the acne hack cleanser and acne hack cream for 3 weeks now and I have not had any new pimples in that time, and the ones I did have have cleared! I am so surprised at how soft my skin has been while using this - it's incredible effective, but gentle on my sensitive skin. I will be buying more when this runs out!
19/11/2020
Beck K.

Australia
Amazing - almost instant results - absolutely worth it!
At 34, I have been lucky enough to not have suffered with acne when I was younger. Imagine my shock when in March this year I suddenly began to get hormonal acne like I'd never had before... I thought it was isolation, stress, or purging after foolishly trying a face oil, but after trying all year to pare down my routine to the basics, trying acne fighting products and coming out of isolation going back to fairly normal life nothing changed. Every month I would have about 3 days of decent skin in the middle of my cycle and the rest of the time painful and recurring cystic and surface acne. I then found TBH via a Broadsheet article and decided the science seemed legit, gave it a go and WOWZA. I am so impressed and happy. My skin began to turn around within 1 day - existing blemishes shrank and any new ones that came up in the next week were less severe, less red and painful and resolved themselves quicker. Now I am 3 weeks in using the products once daily and have just finished my period with only minimal acne appearing and no scarring from this round. I have very sensitive and dry skin and this has not irritated it at all. The only reason I didn't give 5 stars is the Hack Cream tube is quite small. Could do with a bigger option as I feel it won't last long before I need to buy more and it would just be more eco friendly to have more product in less packaging and postage. THANK YOU TBH X (I use the gentle cleanser, the acne hack cream and my own sonic silicone brush the Foreo Luna.)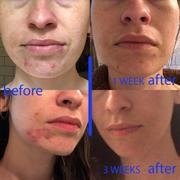 I want to know more about this product